Minuteman III Intercontinental Ballistic Missile
The Montana Defense Alliance Mission
Our Purpose
Facilitate community and government support to sustain and enhance existing military missions and pursue future missions relevant to long-term DOD force structure locally and throughout Montana as appropriate. Provide a unified message from the community to decision makers at all levels.
The Montana Defense Alliance is another example of your Great Falls Area Chamber of Commerce working for you.
Our Mission
The mission of MTDA is to represent local and statewide military interests with one voice and a single message. MTDA's key partners include Cascade County, the City of Great Falls, Great Falls Area Chamber of Commerce, the Great Falls International Airport, and Great Falls Development Authority. These primary community stakeholders are committed to support, retain, attract, and enhance military missions locally and throughout Montana.
Our Representatives
Montana Senate
Address letters to: Senator
PO Box 200500
Helena, MT 59620-0500
By Fax During sessions:
Senate 406-444-4875
Montana House of Representatives
Address letters to: Representative
PO Box 200400
Helena, MT 59620-0400
By Fax During sessions:
House 406-444-4825
US Senate
For correspondence to U.S. Senators:
Office of Senator (Name)
United States Senate
Washington, D.C. 20510
US House of Representatives
U.S. House of Representatives
Washington, DC 20515
(202) 224-3121
TTY: (202)-225-1904
A message from the chair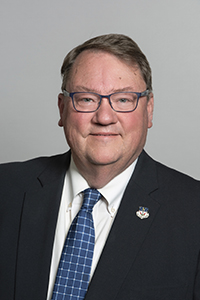 Please keep in mind, when we talk about assets, it isn't just facilities and equipment –it is also about jobs. Jobs of people that live in your community, supporting families, patronizing local businesses, volunteering for charities, and much more.
Steve Grooms
MTDA Chair